In Schwendau, the Horbergbahn cable car provides fast transport especially for powder lovers in the high season. If this is not enough, there is nothing easier than to move to about 10 minutes. distant Zillertal Arena.
Size: 95 m2, terrace 25 m2
Price: 569.000 EUR.
Why this apartment:
good accessibility from Prague, about 5.5 hours, from Innsbruck about 55 min
500 m distance from Mayrhofen ski, range 11 min Zillertal Arena (143km of ski slopes)
the estimated annual rental income of about 8% and the additional value of your property
the accommodation is within walking distance to the lifts
20 minutes to the golf course Golfclub Zillertal Uderns
  Apartment description: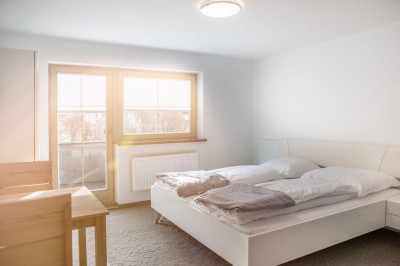 Completely furnished bright apartment with a covered terrace, 4 + kk, located in an exceptional and desired location in a house with four housing units. Includes 3 very spacious bedrooms, separate kitchen, 21 m2 living room and spacious bathroom with separate toilet. The living room has a 25 m2 covered terrace with invaluable views of the magnificent mountain panorama and unobstructed views of the south (valley). The floor plan of the attic apartment is 106 m2 with a large storage space plus an additional 25 m2 of cellar storage space. There are 2 private parking spaces.
The land on which the house stands is on a tourist-approved land area and therefore allows for a commercial tourist rental. The apartment was already very short-term rented to paying tourists on a weekly basis. The rating of the apartment was granted 9.5 out of 10 possible stars. High payback is very easy to achieve in this case!
The entire city infrastructure, ie lifts and restaurants, is within walking distance. We offer together with the sale of a short-term lease contract. In case of interest we can also provide suitable financing concepts by the Czech or Austrian bank, where the current interest rate is around 1.25% depending on the rating.
We will arrange a contract with short-term accommodation operators as part of a sales transaction. The main goal of the operator is to achieve the highest possible rental income. While you are not using your apartment yourself, your apartment is professionally offered through the agency and you, as the owner (minus the operator), benefit from rental income. If you buy an apartment for the purpose of investment, you will be refunded VAT on the property price. When buying a property in Austria you always pay about 10% of the purchase price incl. VAT (3.5% acquisition tax, 2% legal service, approx. 3.5% Austrian intermediary (in this case it will be Invest & Design s.r.o.), 1.1% cadastre).
ZILLERTAL ARENA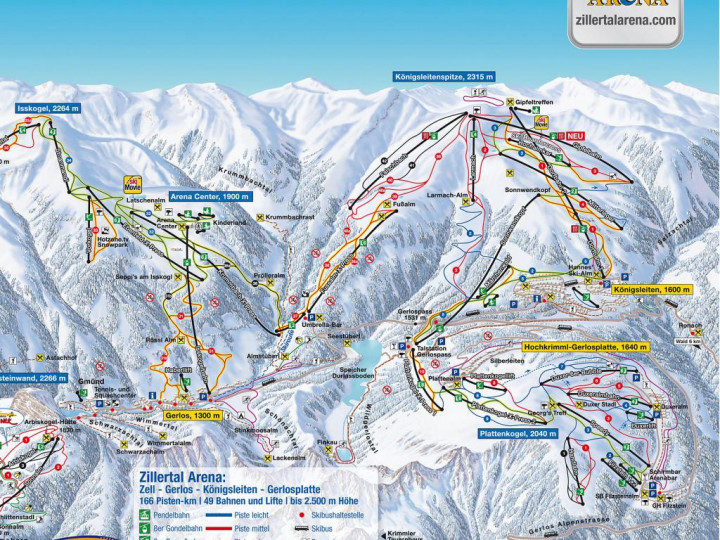 From Zell am Ziller through Gerlos, Königsleiten to Hochkrimml is the largest ski resort called Zillertal Arena. Height up to 2,500 m above sea level and 100% snow guarantee allows skiers and snowboarders of all ski skills to enjoy their winter holiday to the full.
The modernly equipped ski area, with its predominantly new, large-capacity transport facilities, provides a great connection between the entire resort and is one of the best in Austria.
For visitors, there is a 10 km long ski slope with the typical name HöhenFresser-Tour, which is one of the longest ski slopes and at the same time the highest elevation slopes (almost 2000 m) in Austria.
For snowboarders and freestyle enthusiasts, there is Boarder Town in Gerlos, one of Austria's three best snowparks. Those brave can look forward to a 3 meter high and 14 meter wide 100 meter long halfpipe. Naturally, Krimml offers sports for freestyle enthusiasts. The Action-Park Kreuzwiese in Zell am Ziller is also worth a visit.
For those looking for a deep snow ride, the downhill along the Krimml X-Press over Gerlos is the attraction. For the "corduroy" lovers, the ski resort adjusts its slopes during the winter season even in the afternoon. Early risers can take advantage of some of the slopes that are open for them at 7 am in the spring.