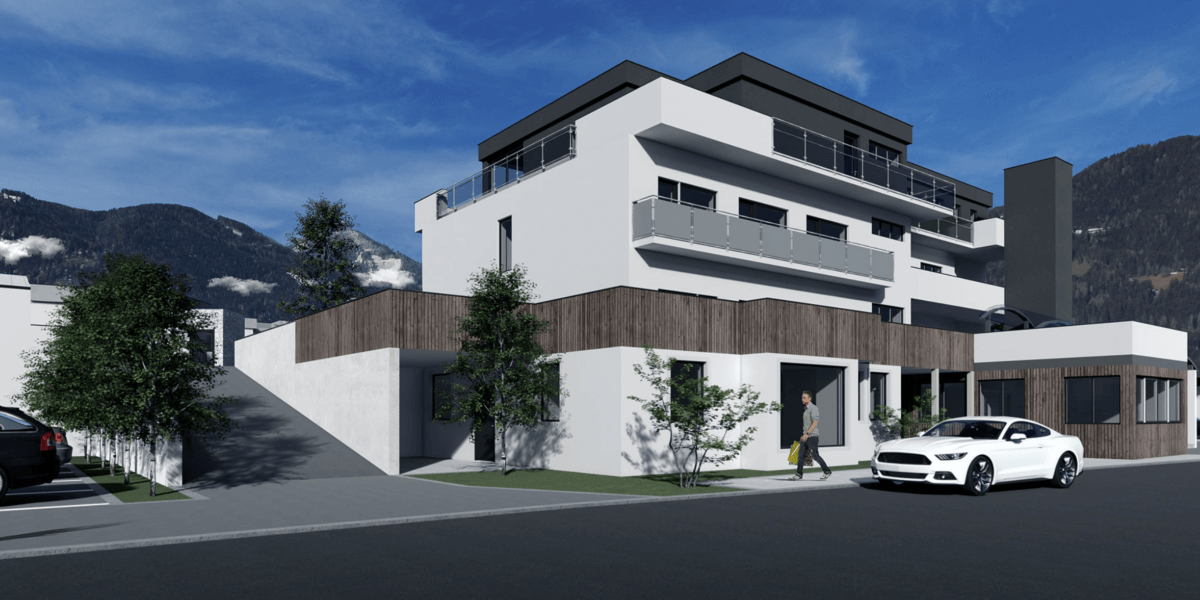 Living in the heart of Austria. This apartment complex has been renovated and partly newly built, offering 14 tasteful apartments in a rural, quiet location in Styria. Quality and cheap living within driving distance of the ski resort and only 18 minutes from the nearest winter resort. The property offers an excellent opportunity to realize your dream investment dream near the mountains, in the middle of green Austria.The apartments can be used as a main residence, second home, holiday home or as an investment property for tourist or permanent rent. Ideal for own use, but also as a sublease investment.For this project, the developer does not provide short-term rental operators, and therefore, if you are interested in this investment model, it is necessary for the buyer to take care of everything himself.
This apartment offers 14 apartments with a living space of approximately 56 m2, 2-4 rooms. You can choose between different types and sizes of apartments. Each unit is made to a beautiful standard and offers a pleasant kind of living experience. The units are assigned spacious terraces, balconies or gardens, where the highest quality and privacy has always been taken into account. Furthermore, the apartments have sufficient storage space and also offer a cellar / storage room for each apartment that is included in the purchase price. In addition, the residential complex has other common areas / rooms with technical facilities. The residential complex has 20 covered garage parking spaces and another 7 parking spaces for cars, which can be purchased at an additional cost. There are plenty of parking spaces for visitors.
 Region where the apartments are located:
They are located directly on the "Mura cycle path" and the town is an idyllic market town with about 2200 inhabitants. The location offers a wide range of leisure activities in and around Schleifling. Far from mass tourism, you can experience Styria in its most natural form. The mild mountains, forests in the Mur area with fresh air invite you to walks and hikes and relieve you of everyday stress. Due to the proximity of large, sports and recreational facilities, entertainment and various events are provided here. In less than 30 minutes. you get to the Red Bull Ring with all the great events and activities, even off the racetrack.
The apartments are located in the central, eastern Alps and are therefore ideal for hiking. In and around Scheifling you can go hiking, but also many other activities such as horse riding, paragliding / tandem paragliding, fishing, tennis, golf, and much more. An ideal starting point for varied and challenging hikes, recreational cyclists and mountain bikers will also find enjoyment here. Many lakes and ponds on site and in the surrounding area are an ideal oasis for cooling off on hot summer days or after a long, extensive cycling or hike.
Completion date of the main building in the summer of 2022 and the annex building 2023.
BUYERS DO NOT PAY COMMISSION Invest & Design!
We will be happy to provide a suitable financing concept for a Czech or Austrian bank. The current interest rate in Austria is around 2%. The purchase cost is approximately 10% of the gross purchase price, as a standard process of buying Austrian real estate. We will guide you through the entire purchase process, including legal advice and assistance in the Czech language during the entire purchase process and in Austria (during the inspection, when signing documents with an Austrian notary, etc.).
OFFER OF AVAILABLE APARTMENTS:
Prices are indicative. Upon request, we will find out the current availability and prices of available units. Covered parking spaces, of which there are a total of 20, are at an additional cost of EUR 9,500 without VAT. Sheltered parking spaces are at an additional cost of 3,500 EUR without VAT and there are a total of 7. The cellar is already included in the price of the purchased apartments. The kitchen is not part of the sale and is not included in the price.