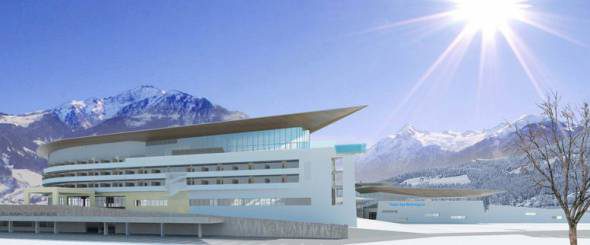 We would like to introduce you to the unique aqua center in Zell am See, where you will find the sauna world and many more in the immediate vicinity of the mountains. There is nothing more beautiful than enjoying a pleasant water bath and watching the amazing panoramas of the Hohe Tauern mountains in the village of Kaprun near Zell am See.
Arrival by car from the Czech Republic: it is best to drive to Salzburg and then along the A1 motorway to Vienna or via the A8 motorway from Munich. Continue on the A10 in the direction of Villach, leave the motorway just before Bischofshofen, and then continue along the B311 to Zell am See. The information boards are very conspicuous and from there take you directly to the Tauern Spa in Zell am See.
The whole complex is quite extensive and consists of a 4 * superior hotel, a hotel spa, spa facilities, saunas and a restaurant. In order to make everything accessible to guests very easily and to have access to all parts of the complex, it is situated to the south, which creates a protected outdoor area.
The combined entrance fee also includes entrances to the sauna world and fitness activities. The water world is open daily from 9 am to 10 pm and the sauna area from 10 am to 10 pm. All-day entry to the water world costs EUR 28.50 and EUR 32 on weekends. In combination with a ticket to the water world, it is possible to buy a ticket to the sauna world for an average of 15 EUR. Children have cheaper, discounted admission. There are also cheaper tickets for 3 hours or discounted family tickets. In the current coronavirus crisis, this current situation is addressed so that guests can buy their tickets online and thus reserve a fixed place for themselves and their loved ones.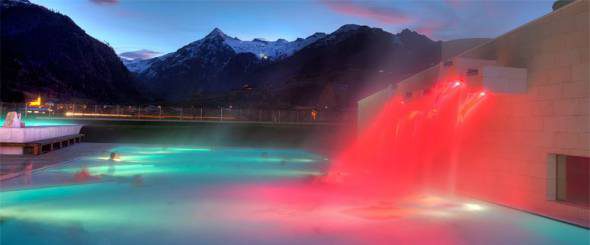 The SPA sauna world consists of several parts, namely a sauna, a sauna workshop and also a spa from A to Z, a Finnish sauna, an herbal bath, a bio sauna, a brine pool, an aromatic steam bath, a sauna where clothing is allowed and more.
The Tauern Spa offers many other services, a healthy and hearty breakfast, a buffet, a bathrobe and slippers, coffee and cake, access to fitness, spa treatments, a restaurant, a sports shop and many other interesting experiences. There are both outdoor and indoor pools, which are set to different temperatures so that people can warm up or refresh and swim. There are also showers, sun loungers, waterfalls, a jet pool and hydromassage, all accompanied by musical effects. Part of the water world is a spa area with a sauna and a children's world, which offers even the little ones a separate children's indoor and outdoor space with a slide. The pools are of different types and for different age groups of children, they include playgrounds, sandpits, volleyball courts, etc.