In winter, it can be used for comfortable seating with spectacular views of the snowy landscape, and in summer through sliding doors as a covered sun terrace. On the upper floor you will find peace and privacy. There are two bedrooms with a large supply of natural light and a bathroom with shower. There is also a master bedroom with private bathroom and dressing room. The balcony offers unforgettable views of Lake Ossiachersee and the surrounding mountain landscape. In the basement there is a spacious SPA area, which includes a solarium, a sauna, a hot tub and an indoor swimming pool with sunbathing area. This relaxation zone will prepare you for a special wellness experience in your own home. The beautifully designed garden with sun terrace blends harmoniously into the landscape and offers ample space for creative development. The equipment includes, among others, high quality parquet and tiled floors, balcony, spotlight lighting system, blinds on all windows and new fittings. Underfloor heating in bathrooms and radiators in living rooms and bedrooms provide heat on cold winter days, which can be individually controlled by room thermostats. Double garage and paved yard offer total parking for 4 cars. Take the opportunity to purchase a charming, high quality property with an open view in the heart of the Alps.
The price of this unique property is 890 000 EUR without VAT.
This villa has already been sold.
We will be happy to offer a suitable financing concept by a Czech or Austrian bank to finance a flat with approximately 30% of own resources through rental income. The current interest rate in Austria is around 1.25%. The purchase cost is approximately 10% of the gross purchase price, as a standard process for purchasing Austrian property. Invest & Design charges 3.5% + VAT on the purchase price of the property incl. VAT. We will guide you through the purchase process, including legal advice and assistance in the Czech language throughout the purchase process, also in Austria (during a tour, when signing documents with an Austrian notary, etc.).
Why this project?
location on the lake Ossiachersee with the possibility of summer sports
in winter the possibility of skiing in the nearest resort Gerlitzen Alpe
excellent infrastructure
in less than an hour's drive you will reach the border with neighboring countries such as Italy and Slovenia
Klagenfurt Airport can be reached in 35 minutes by car
journey by car from Prague takes about 6 hours
high standard of living and above standard equipment of a classic villa
private SPA, beautiful winter garden, usable in winter and summer
Nearest winter center
Gerlitzen Alpe 1911 m.n.m.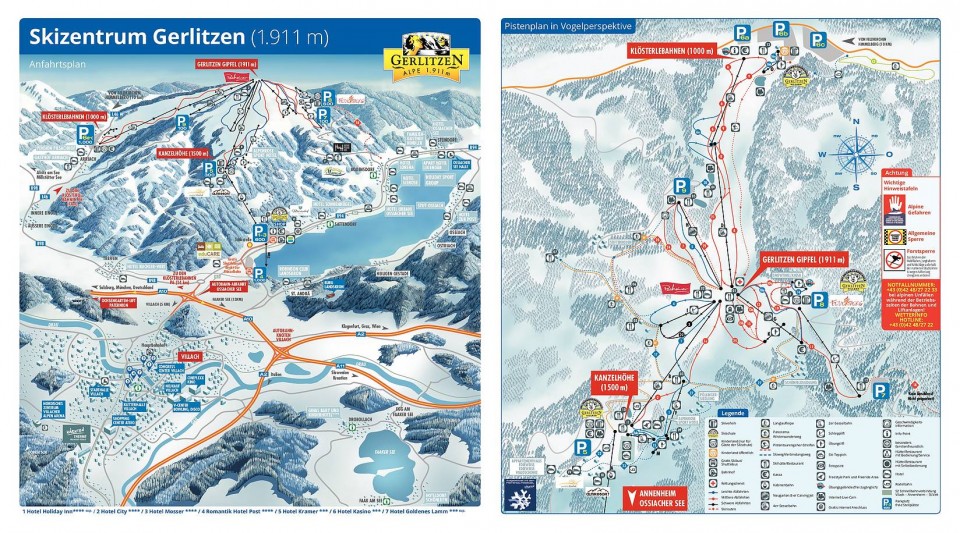 Map of resort: https://www.bergfex.com/gerlitzen-alpe/
On the other side of the lake is the Gerlitzen Alpe winter resort. The ski season is in full swing from early December to early April. 17 ski lifts take you to the top of the mountain with the possibility of downhill skiing after 45 km 100% of snow-covered ski trails, which is a total of 26 ski slopes. You can look perfectly here, as the views allow 360 ° panoramic views of the surroundings. Ossiachersee is a deep blue lake, which is gracefully rooted in the Carinthian Alps and convinces every nature lover with a wide range of leisure activities for the whole family and perfect infrastructure. In summer, the region offers great hiking opportunities with the most beautiful views with moderate temperatures.
It is possible to visit 14 legendary cottages and restaurants. Location The Gerlitzen Alpe is ideally located in the center of Carinthia, with the possibility of access to the Annenheim and Klösterle-Arriach grounds. Availability and transport links are very good. The ski bus is also ideal for a comfortable arrival from Villach, Ossiacher or Faaker See to the valley station and back. On the slope of the Moser (at the middle station Kanzelhöhe) is the best way to learn to ski for beginners and for children who have a professional ski school. In the central station there are warehouses equipped for arriving guests who do not want to bring their equipment to the valley every day. If you want to rent equipment and ski you can do it in three places on the mountain (middle station, valley station Klösterle, Feuerberg). The opening of the ski area and the possibility of skiing begin every day at 8:15 am (Kanzelbahn) at 8:30 am in Arriach-Klösterle. These early opening hours provide visitors with even more fun and a genuine corduroy for ski enthusiasts.