Basement and surroundings of the house
In the basement there is a chamber and utility room. There is also a cellar, which is used to store fruits, vegetables, etc. There is a private wine cellar. The house offers ample parking, open space and greenhouse.
Ground floor
The heart of this unique house is preserved on the ground floor. There is a large, cozy living room with dining room and kitchen. From here you can go directly to the covered terrace, which is just a few meters from the outdoor pool. Enjoy hot summer days in your own oasis of peace and relaxation. The house has plenty of storage space and the overall high standard of living is complemented by separate guest toilets.
First floor
On the first floor you will find a large bright hallway, two bedrooms, each with its own bathroom, and a balcony. There are also two storage rooms and a laundry on this floor. The storage space may look cramped, but these rooms may be converted.
We will be happy to offer a suitable financing concept by a Czech or Austrian bank to finance a flat with approximately 30% of own resources through rental income. The current interest rate in Austria is around 1.25%. The purchase cost is approximately 10% of the gross purchase price, as a standard process for purchasing Austrian property. Invest & Design charges 3.5% + VAT on the purchase price of the property incl. VAT. We will guide you through the purchase process, including legal advice and assistance in the Czech language throughout the purchase process, also in Austria (during a tour, when signing documents with an Austrian notary, etc.).
Year of construction is 2007.
The price without VAT is 1.950.000 EUR.
Why this project?  
Wernberg offers many different leisure activities in summer and winter
The nearest winter resort Gerlitzen Alpe is located on the other side of the lake
excellent surrounding infrastructure – in just 5 minutes by car you can get to grocery stores, restaurants, doctors, pharmacies, banks, schools and boutiques, etc.
15 minutes by car to the KÄRNTENTHERME Warmbad-Villach, these thermal baths offer a comprehensive range of Fun, Fit & Spa at four different levels
journey by car from Prague takes about 6 hours
privacy and panoramic views are the advantages of this property
NEAREST WINTER CENTER
Gerlitzen Alpe 1911 m.n.m.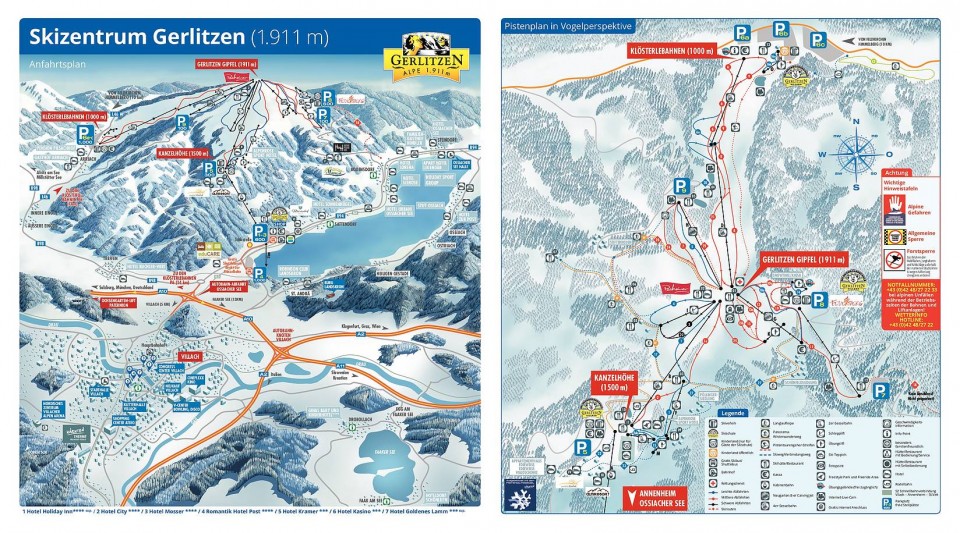 Map of resort: https://www.bergfex.com/gerlitzen-alpe/
On the other side of the lake is the Gerlitzen Alpe winter resort. The ski season is in full swing from early December to early April. 17 ski lifts take you to the top of the mountain, offering 45 km of slopes, 100% of the snow-covered ski trails, which is a total of 26 slopes. You can look around perfectly, as the views allow 360 ° panoramic views of the surroundings. Ossiachersee is a deep blue lake, which is gracefully rooted in the Carinthian Alps and convinces every nature lover with a wide range of leisure activities for the whole family and perfect infrastructure. In summer, the region offers great hiking opportunities with the most beautiful views and temperate temperatures. It is possible to visit 14 legendary cottages and restaurants.
Location The Gerlitzen Alpe is ideally located in the center of Carinthia, with access to the Annenheim and Klösterle-Arriach grounds. Availability and transport links are very good. The ski bus is also ideal for a comfortable arrival from Villach, Ossiacher or Faaker See to the valley station and back. On the slope of the Moser (Kanzelhöhe middle station) is an ideal opportunity to learn to ski for beginners and children who have a professional ski school. In the central station there are warehouses equipped for arriving guests who do not want to bring their equipment to the valley every day. If you want to rent equipment and skis, you can do it in three places on the mountain (middle station, valley station Klösterle, Feuerberg). The opening of the ski area and the possibility of skiing begin every day at 8:15 am (Kanzelbahn) at 8:30 am in Arriach-Klösterle. These early opening hours provide visitors with even more fun and a genuine corduroy for ski enthusiasts.