Chalet – with a total floor area of about 95.50 m² suitable for up to 8 people. The cottage is connected to the local district heating network. It is fully furnished and now offered for sale as an investment object not only for tourist rental but also with the possibility for its own use. Penthouse / attic with a floor area of about 45.38 m² is suitable for up to 5 people. 3-room apartments – are fully furnished and offered for sale as an investment object. The apartments are located on the ground floor with garden or on the 1st floor with balcony. On a floor area of approximately 60.39 m² you will find plenty of space for up to 4 people.
Detailed description of the project, location:
Mariapfarr near the resort is located at an altitude of 1110 meters in the Salzburg area and is known as one of the most sunny places in Austria. Hiking tours are suitable for mountain lakes, the area has miles of cycling and mountain trails, there is a public outdoor pool, golf club, riding school and other cultural experiences. In winter you can visit 4 surrounding ski areas – Katschberg-Aineck, Großeck-Speiereck, Fanningberg, Obertauern. Right in the center of Mariapfarr you can rent snowshoes, try horse-drawn sleigh rides, toboggan adventures and a modern wellness center.
Why this project in Mariapfarr:
good access from Prague, approx. 5.5 hours, from Innsbruck approx. 35 min
range 15 min Katschberg, 24 min Obertauern
estimated annual rental income at 50% occupancy of about 4.5% and further appreciation of your property
a bus stop is next to the complex
Rides to the ski areas can be made several times a day
The A10 Tauernautobahn motorway exit is just a 20-minute drive away, providing easy access to Salzburg and Klagenfurt airports.
PRICE LIST:
| NAME | APARTMENT | LIVING AREA | DISPOSITION | PRICE WITHOUT VAT (+20%) |
| --- | --- | --- | --- | --- |
| HOUSE A | Apartment on the ground floor with garden terrace | ca. 60,39 m2 | - | sold |
| HOUSE A | Apartment on the upper floor, balcony | ca. 60,47 m2 | - | sold |
| HOUSE A | Attic apartment with balcony | ca. 45,38 m2 | - | sold |
| HOUSE B | Apartment with terrace | ca. 60,39 m2 | - | sold |
| HOUSE B | Apartment on the upper floor, balcony | ca. 60,47 m2 | - | sold |
| HOUSE B | Attic apartment with balcony | ca. 45,49 m2 | - | sold |
| COTTAGE | Ground floor / attic | ca. 95,50 m2 | - | sold |
Photos of the cottage / chalet
Photos of the apartments
RESORT KATSCHBERG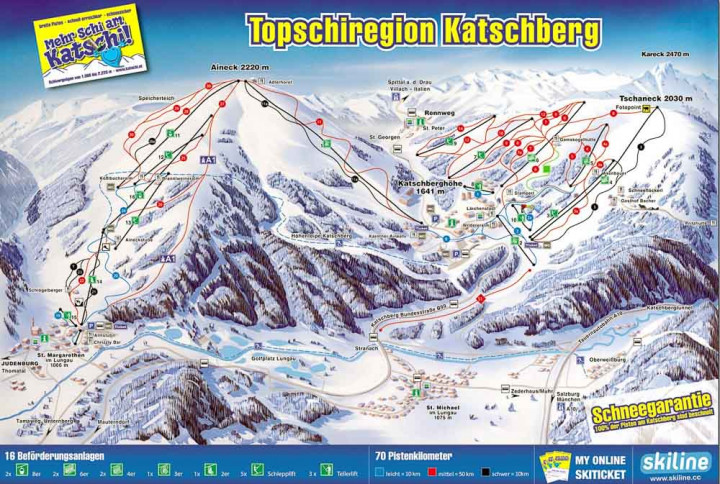 The biggest winter resort of Katschberg is only 15 min. by car from this resort. The Katschberg Pass (1641 m high) is a high mountain pass in the Middle Eastern Alps of Salzburg. Katschberg is a modern mountain resort with a 10-minute walk everywhere. The 70 km ski area has two main arteries – the eastern slopes of Tschaneck and the western and northern slopes of Aineck, which are conveniently connected by paths and a ski bridge spanning the road to Katschberg. The target group of Katschberg are families with children from 4 to 12 years of age, to whom all infrastructure is adapted. The longest ski slopes are "A1" from Aineck to St. Margarethen, Aineck downhill to Katschberg (black downhill – Direttissima or red downhill – family downhill) and Tschaneck downhill (black downhill), but the resort is also suitable for families with children.
For beginners, the Platterlift, Minijet and Königswiesen cable cars in Katschberg are suitable. On the Carinthian side of the mountain there are 6 Gamskogelexpress passenger lifts, the Königswiesen cable car and the Sonnalm cable car. There are also the Aineckbahn cable car and three Tetra poma lifts and other lifts.
Summer tourism – with the development of the ski resort is also developing summer tourism. Today there is a 200 km wide network of hiking trails and numerous summer activities and accommodation in the region.
Another winter resort Obertauern
(1,740 m) is a 20 minute drive from the resort. The terrains encircle the resort so tightly that they can be skirted around in both directions without requiring too unobtrusive traversing. Obertauern is also one of Austria's most reliable non-glacier resorts. Most of the ski slopes exceed 2,000 m. And besides the long season, which is from mid-November to early May, the proximity from Bohemia and Moravia is also very attractive. A very varied mix of tracks of all difficulty levels on bare but rugged slopes limits only a lower overall elevation. The apres-ski is also legendary. On days with "white darkness", the Lungo superskipas can pay off as well, which can be used indefinitely at Fanningberg and Katschberg.