Year of construction 2013!
The price for this property is 445,000 EUR excl. VAT.
We will be happy to offer a suitable financing concept by a Czech or Austrian bank to finance a flat with approximately 30% of own resources through rental income. The current interest rate in Austria is around 1.25%. The purchase cost is approximately 10% of the gross purchase price, as a standard process for purchasing Austrian property. Invest & Design charges 3.5% + VAT on the purchase price of the property incl. VAT. We will guide you through the purchase process, including legal advice and assistance in the Czech language throughout the purchase process, also in Austria (during a tour, when signing documents with an Austrian notary, etc.).
Why this apartment?
near the city center and at the same time amidst untouched nature, the "dreamy" town of Kirchberg is located in the heart of the Kitzbühel Alps
only 6 km from the world-famous city of Kitzbühel
in summer, hikers and mountain bikers can enjoy unspoilt nature on a wide network of trails and all levels of difficulty
500 km of hiking trails and 175 km of cycle and mountain bike trails
The picturesque swimming pool, tennis courts and many other attractive leisure facilities offer pure sport and relaxation
in winter Kirchberg enchants with its romantic winter landscape, which can be explored on many hiking trails and cross-country trails
the property is close to Salzburg (80 km), Innsbruck (100 km) and Munich (120 km)
drive from Prague in just 5.5 hours
WINTER CENTER KITZBÜHEL – KIRCHBERG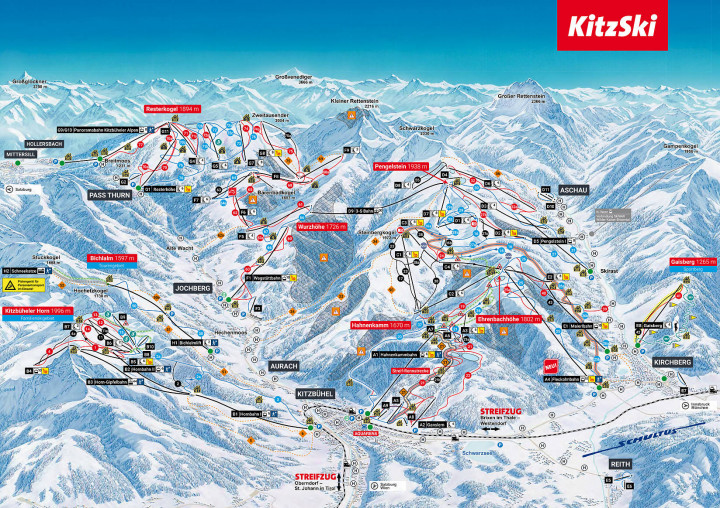 Map of resort:https://www.bergfex.com/kitzbuehel-kirchberg/panorama/
Wide selection of slopes for all requirements and access to two of the best ski resorts in the world accelerates the heart of every skier. With its unmistakable spirit and fabulous ambience, the geographical location allows skiers and winter sports lovers endless skiing opportunities. Versatile sports activities, many facilities, festivals, sports events and races make Kitzbühel the most sought after destination for winter fun, and more than a million people choose this destination for their vacation every year. The northwest wall allows snow to be held until April. More recently, the 3S-Bahn between Hahnenkamm / Pengelstein and Jochberg / Resterhöherde has been put into operation, opening up a whole new dimension for a "ski safari" in the Kitzbühel ski area. All family members will find something for their children and beginners can use the training lifts at any point in the valley. Since then, the entire ski area from Aschau to Pass Thurn can be driven in both directions without relying on free shuttle buses.