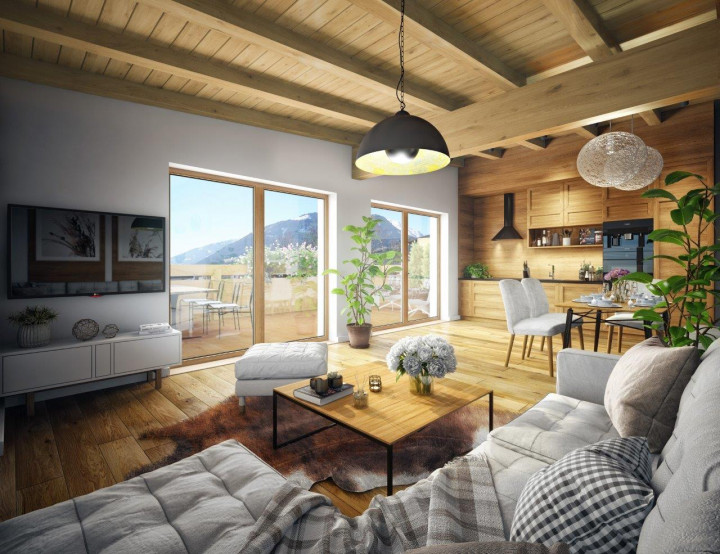 This project consists of 8 holiday apartments that are designed to be invested as a tourist rental with a lucrative return. Apartments are equipped with quality materials, exclusive bathroom with underfloor heating and quality floors. The layout of individual rooms can still be modified (within the construction) and it is possible to take into account the material requirements or accessories of each owner.
Here you can enjoy pure relaxation amidst the breathtaking mountain massif. The project is built in a completely sunny location, which can be used throughout the year. Its location not only guarantees quick access to many natural recreational facilities and gems, but is also located in close proximity to the village's infrastructure. We are able to offer a prospective owner and real estate investor in Austria a tour of the location and provide all the information on the sale and lease, which will be fully secured. Thanks to the proximity of the ski lift and the great holiday opportunities in the region you will have the best occupancy.
The house is equipped with a lift. In the basement there is an underground car park with 16 parking spaces, a room for ski and sports equipment and a cellar space for each apartment. The purchase price for the parking space is € 23,000 – € 26,000 plus VAT. Please note that all apartment designs, especially furniture, structural elements and components such as windows, floors, tiles, ceilings, balconies, railings that are shown in the photographs are only symbolic illustrations and designs and may not be part of the actual equipment.
We will be happy to offer a suitable financing concept by a Czech or Austrian bank to finance a flat with approximately 30% of own resources through rental income. The current interest rate in Austria is around 1.25%. The purchase cost is approximately 10% of the gross purchase price, as a standard process for purchasing Austrian property. Invest & Design charges 3,5% + VAT on the purchase price of the property incl. VAT. We will guide you through the purchase process, including legal advice and assistance in the Czech language throughout the purchase process, also in Austria (during a tour, when signing documents with an Austrian notary, etc.).
The planned completion of construction, depending on weather and marketability, is the end of 2020!
Why this project:
location in the center of the village with walking distance to the bakery, pharmacy, shop, kindergarten and other facilities
walking distance to the newly built valley station in Zillertal
pedestrian access to children's ski lift and practice ski resort
in the village there is indoor pool, restaurant, banks
the nearest cable car is open in summer and winter and has won a family lift
only 14 minutes by car to one of the largest winter resorts of the Zillertal Arena
the entire infrastructure and restaurants are within walking distance
mountain view
good access from Prague, approx. 5.5 hours, from Innsbruck approx. 40 min
OFFER OF TYPE APARTMENTS:
Prices are for guidance only, on request we will send you the price according to the current valid price list.
| APT/ROOM | FLOOR | TOTAL M2 | GARDEN M2 | TERRACE/GARDEN | NUMBER OF ROOMS | DEPOZITION | PRICE WITHOUT VAT | SALES STATUS |
| --- | --- | --- | --- | --- | --- | --- | --- | --- |
| 1 | GF | 55,91 m2 | 16 m2 | 1 + garden | 2 | - | 344 278 EUR | sold |
| 2 | GF | 71,63 m2 | – | 1 | 3 | Plan | 415 454 EUR | vacant |
| 3 | GF | 84,19 m2 | 124 m2 | 1 + garden | 3 | - | 528 302 EUR | sold |
| 4 | GF | 84,19 m2 | 121 m2 | 1 + garden | 3 | - | 520 302 EUR | sold |
| 5 | 1. floor | 79,31 m2 | – | 1 | 3 | - | 459 998 EUR | sold |
| 6 | 1. floor | 71,63 m2 | – | 1 | 3 | - | 415 454 EUR | sold |
| 7 | 1. floor | 84,19 m2 | – | 1 | 3 | - | 488 302 EUR | sold |
| 8 | 1. floor | 84,19 m2 | – | 1 | 3 | - | 488 302 EUR | sold |
NEAREST WINTER CENTER
The Spieljochbahn ski area is connected to the Hochfügen ski area and thus to the Hochzillertal ski area. It forms the largest adjacent ski area in Zillertal. There are also regular bus and train connections to the Inn Valley or the rear of Zillertal. In addition to the snow-covered long ski slopes with the possibility of various winter activities such as skiing, snowboarding, sledding and paragliding, the mountain resorts also offer a family summer program with activities such as Bambini water park, relaxation balance park, children's and crystal mine, barefoot walking trail, paragliding, climbing trail, climbing wall over ferrata, Nepalese bridge, etc.
ZILLERTAL ARENA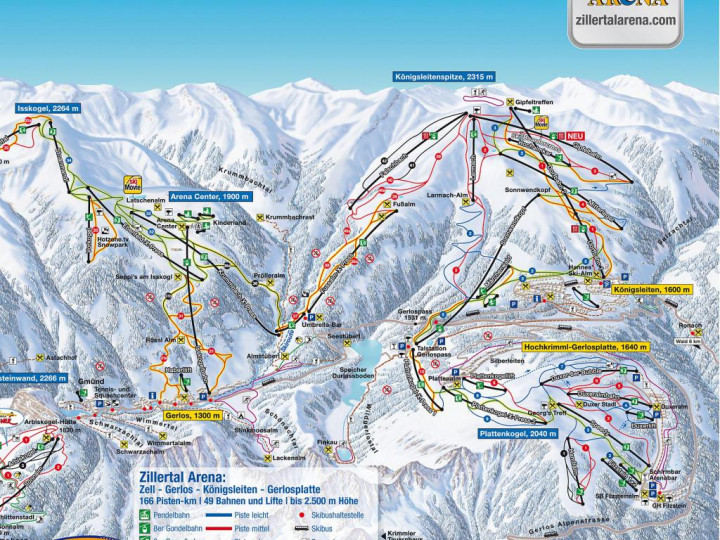 From Zell am Ziller to Gerlos, Königsleiten to Hochkrimml is the largest ski resort called Zillertal Arena. A height of up to 2,500 meters above sea level and 100% certainty of snow allows skiers and snowboarders of all skiing skills to enjoy their winter holidays to the full. Modern ski resort, which thanks to its largely new transport facilities with a large capacity, allows a great connection of the whole resort, is one of the best in Austria.
Visitors can enjoy a 10 km long ski slope with the typical name HöhenFresser-Tour, which is one of the longest ski slopes and also the slopes with the largest elevation (almost 2,000 m) in Austria. For snowboarders and freestyle lovers, Boarder Town is one of the three best snow parks in Austria. Those brave can look forward to 3 meters high and 14 meters wide halfpipe with a length of 100 meters. Of course, there are also Krimml for freestyle enthusiasts. The action park Kreuzwiese in Zell am Ziller is also worth a visit.
Winter centre: https://www.bergfex.cz/zell-am-ziller/panorama/
For those looking for deep snow driving, the attraction is the downhill ride along the four-seater Krimml X-Press over Gerlos. For lovers of corduroy, the ski resort adjusts its slopes during the winter season and in the afternoon. Morning birds can use some ski slopes in spring time, which are opened for them already at 7.00 am.