We will be happy to offer you a suitable financing concept by a Czech or Austrian bank so that, with about 30% of own resources, the apartment is financed through rental income. The current interest rate in Austria is around 1.25%. The purchase cost is approximately 10% of the gross purchase price, as a standard process for purchasing Austrian property. Invest & Design charges 3.5% + VAT on the purchase price of the property incl. VAT. We will guide you through the purchase process, including legal advice and assistance in the Czech language throughout the purchase process, also in Austria (during a tour, when signing documents with an Austrian notary, etc.).
Last renovation in 2016.
Possibilities of use:
Both apartments can be purchased together. Purchase is possible for own use or as an investment object for tourist rental with interesting yields.
Available units: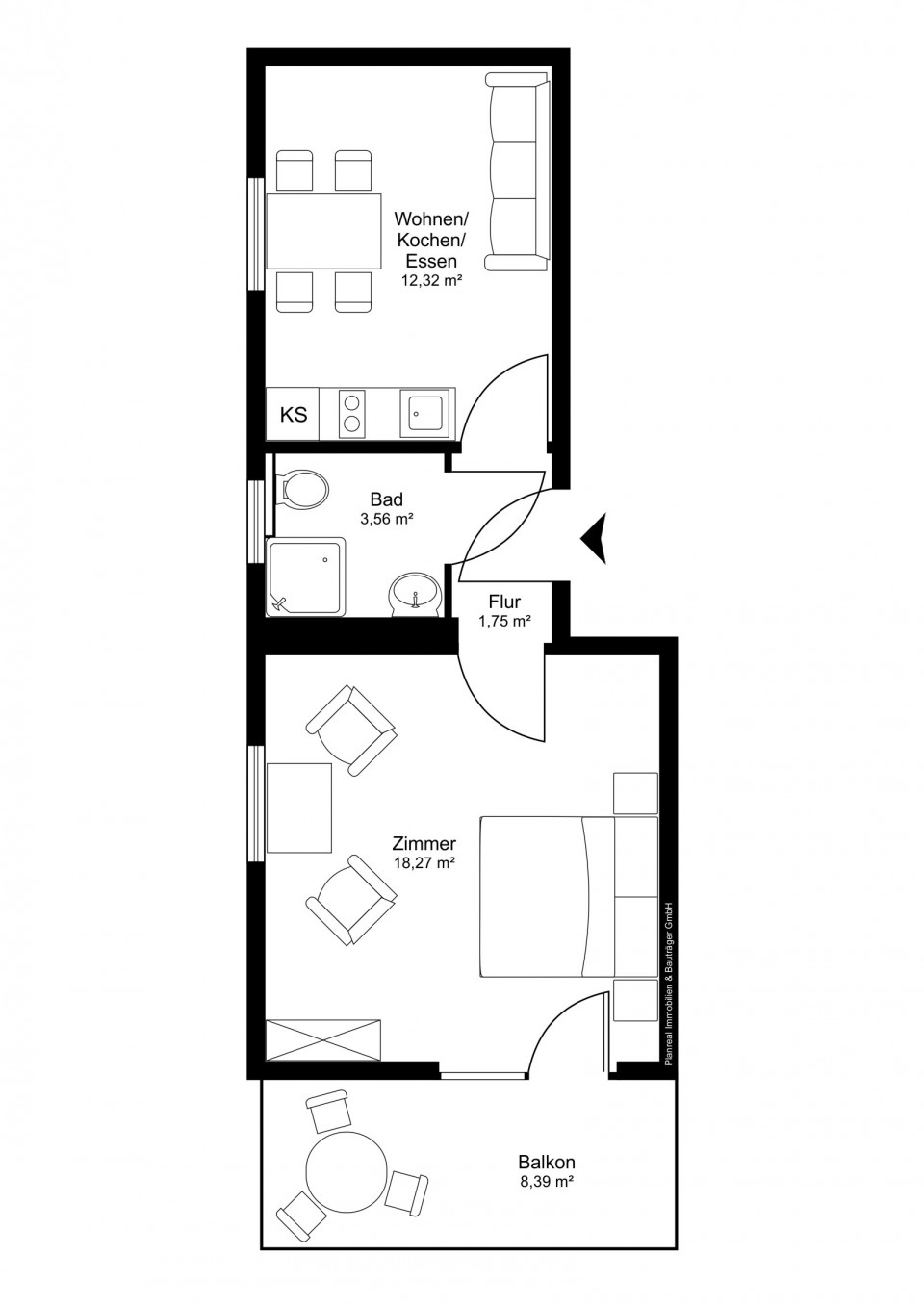 TOP 03 | EUR 199.000 without VAT | 2 + kk with balcony area 35,9 m² | balcony 8,39 m² | cellar 4.55 m²
Apartment Top 03 is located on the 1st floor of the house. From the lobby you can enter the spacious living room, kitchen and dining room. The apartment has a bright bedroom with balcony. This apartment is complemented by a small bathroom with shower. The basement offers a versatile ski storage room with heating for ski boots and a laundry. Very attractive equipment is a spacious wellness center, which consists of an infrared cabin, sauna, steam, heated bench, bathroom, relaxation room and sun terrace with whirlpool, which are available to all apartment owners for their leisure (sublease are excluded from use).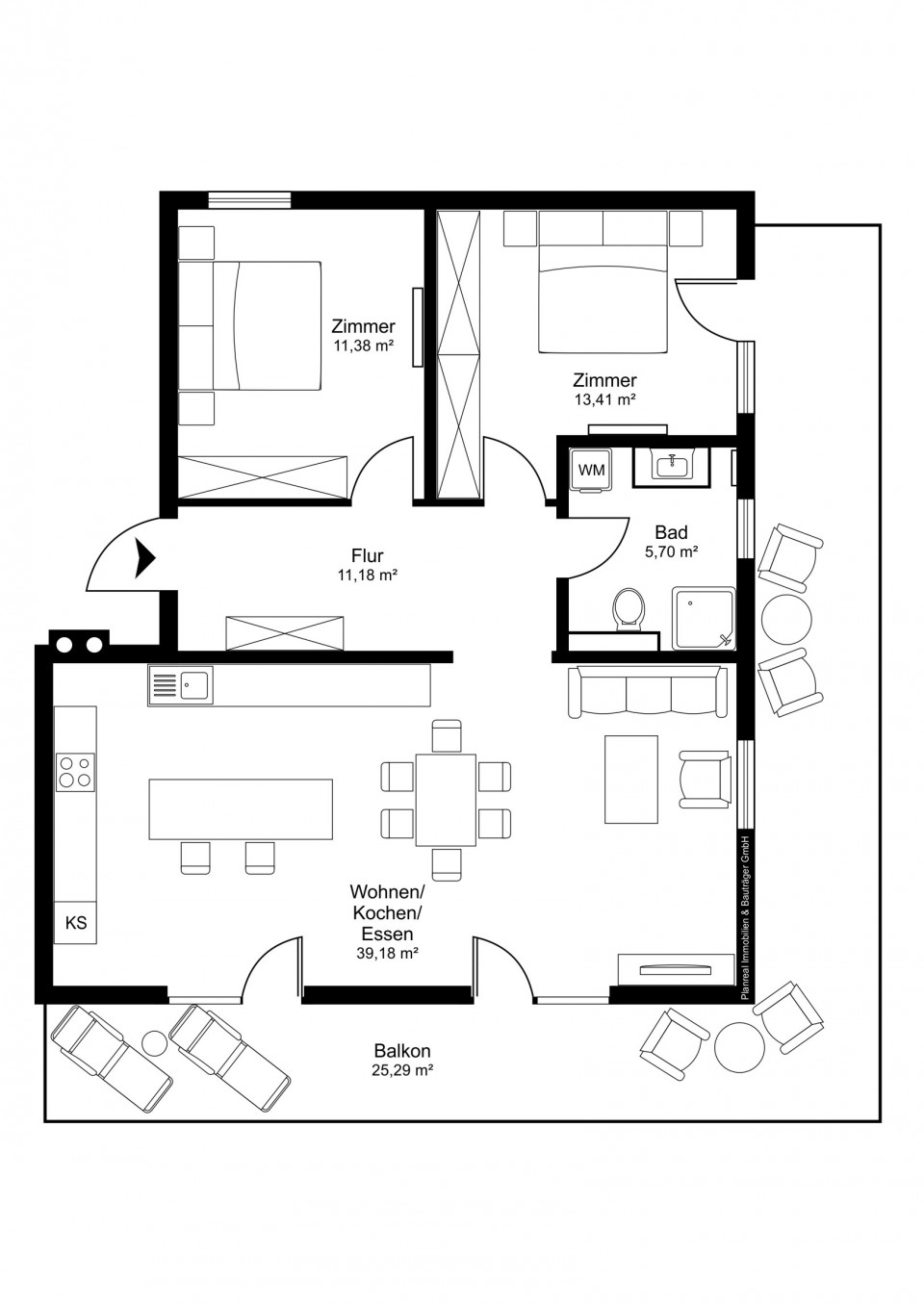 TOP 04 | EUR 359.000 without VAT| 3 + kk living space 80,85 m² | balcony 29.29 m² | cellar 5,59 m²
This exclusive apartment is located on the 1st floor of the residence. From the hallway through the hallway you get directly to the bright, large living, kitchen and dining area, which will delight especially the high-quality design kitchen with island solution, as well as oak floor. Furthermore, this apartment has two spacious bedrooms, the master bedroom has direct access to an almost circular balcony with panoramic views. The balcony is also accessible from the living room, kitchen and dining room. This unit has a modern bathroom with shower. The basement offers a versatile ski storage room with heating for ski boots and a laundry. The highlight of all amenities is a spacious wellness center.
Why this project?
Radstadt Golf Club meets the needs of every golf fan, this golf club is suitable for beginners and professionals and boasts a challenging 18 + 9 championship course
9-minute drive to the nearest ski resort Radstadt – Altenmarkt, part of the Ski Amade
9-minute drive to the large Konigslehen
Snowpark Radstadt can be reached in less than 10 minutes by car, where you will find all the infrastructure
distance from Prague is approx. 5,5 h by car
NEAREST WINTER CENTER
Radstadt – Altenmarkt – SKI AMADE (850-1571 m.m.)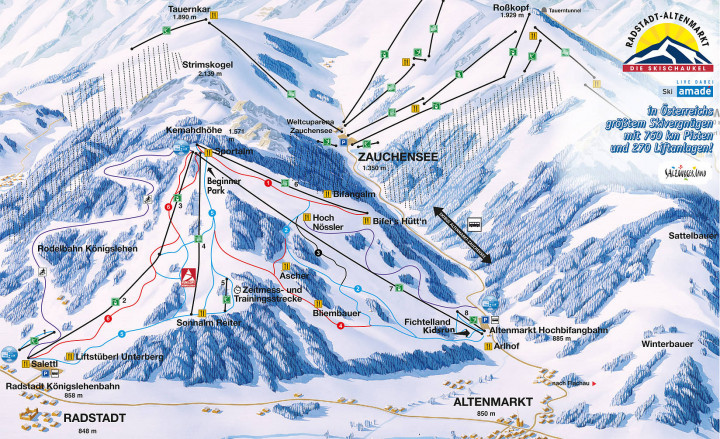 map of resort: https://www.bergfex.com/radstadt-altenmarkt/
This resort is only 9 min. distant and very popular and accessible because the mountain towns of Altenmarkt and Radstadt have an excellent location for commuting to the Salzburger Sportwelt ski area (Zauchensee, Flachau) or to the surroundings of Schladming. Modern ski area with attractive blue and red slopes with 700 m elevation on Kehmadhöhe mountain. Directly between these towns, the easiest to reach resorts from the Tauern motorway, is a very practical and perhaps never overcrowded ski area with excellent skiing. The inconspicuous Kehmadhöhe hill (1,571 m) has wide red-blue slopes with occasional terrain breaks. The red track to Radstadt (858 m) has a pleasant sports profile, the blue tracks at the top of the hill along the 4 Kehmahdhöhe seats and the 4 Hochbifang seats are gentle highways. The downhill to Altenmarkt (885 m) has several variants, there is the lightest blue ski slope, the straightest black crosses the local road. There are also children's educational parks and funslope.
Funslope Königslehen is located in the Radstadt-Altenmarkt ski area. These two slopes offer a change for adventure skiers and snowboarders. And make it even more fun for parents and children on a specially profiled slope with a snow park. Kemahdhöhebahn transports skiers and snowboarders directly to the slope at 1,250 meters above sea level. Right next to the fun slope is Königslehen, which offers great opportunities for beginner freestyle professionals. On the greenhorns snowpark are located two kickers with a jump distance of 2-4 meters and three boxes.
Zauchensee – Flachauwinkl – SKI AMADE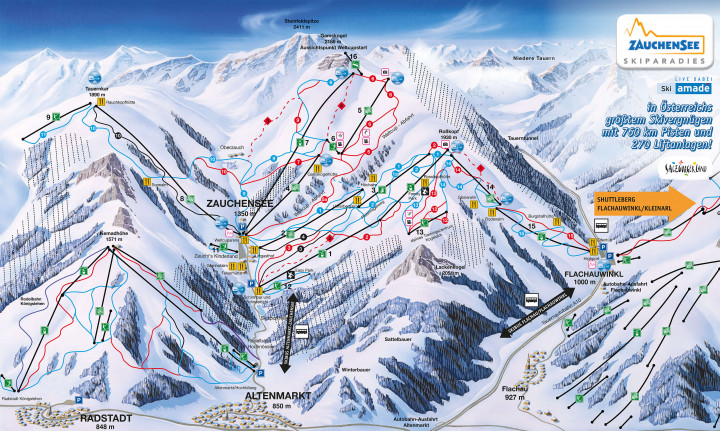 Map od resort: https://www.bergfex.com/zauchensee/
This resort is located 25 min. away from these apartments. It is an easily accessible area with its own exit from the A10 motorway. It is located in the center of Salzburg's sports world and in the Skiverbund Amade. Zauchensee hosted the World Cup and World Cup races. In addition to ski slopes that are safe for all levels of skiing skills, this resort, situated at an altitude of 1350 m, offers high-tech cable cars and lifts. It is the highest area in the Salzburger Sportwelt, which guarantees a snow cover with certainty until the beginning of May. The Zauchensee is also part of the regional ski Amade, allowing you to enjoy a great program including 276 cable cars and 760 km of groomed slopes. Snowboard lovers will appreciate the well-equipped snowpark, fans of freeride descents in the open terrain await interesting terrains with deep snow. A children's park is available for children.