According to this motto, the new Olympiaregion Seefeld summer program offers summer experiences in the form of theme walks. Various points of the program, such as: Experience nature with all the senses, Meditative trip, Nature Watch in the Karwendel Gorge or a surprising hiking trip and much more.
2 adventure pools in Seefeld and Leutasch, consisting of a light flooded 630 m2 swimming area with many attractions and a heated swimming pool, ensure fun and relaxation during your holiday.
In 1964, 1976 and 2012, Seefeld was an Olympic venue for Nordic competitions three times, and in 1985 the Nordic World Championships were held here and is the annual organizer of the Nordic World Championships. After 1985, the Seefeld Olympic Region won the 2019 Nordic World Ski Championships again.
Detailed project description:
Built on a year-round sunny location, the hotel also offers immediate access to many natural and leisure facilities in addition to the fast availability and easy access to the entire Seefeld infrastructure.
The property is built as a high quality new building and consists of 9 apartments suitable for tourists. On the ground floor there are three 2-room apartments for up to 4 people with a garden, between 44 and 50 m2 of living space. Three additional 2-room apartments for up to 4 people in size from 44 to 50 m2 of living space are located on the first floor and in the attic. It is possible to combine several units into a larger apartment. The units are turnkey, the bathroom is furnished. In the basement there is an underground car park with 12 parking spaces, a cellar space for each apartment, a room for ski and sports equipment. The layout of the rooms can still be adjusted (in a structurally possible framework) as well as material requirements or additions. There is a lift in the house. Possibility to use tax advantages of commercial leasing.
The declared price excluding VAT applies to purchases for the purpose of commercial renting, respectively. VAT is refunded immediately after purchase.
We offer you a complete all-inclusive package. Services such as financing, rental operations, tax advisors, apartment-related services, interior design, are handled professionally with the help of reliable partners. The possibility of offering an appropriate financing concept by the Austrian bank to finance the apartment through rental income at around 30% of own resources. The current interest rate in Austria is around 1.25%. Purchase costs are approximately 10% of the gross purchase price, as a standard purchase process for Austrian real estate. In this case, Invest & Design charges 3.5% + VAT on the purchase price of the property incl. VAT. We will guide you through the entire purchase process, including legal advice and assistance in the Czech language throughout the purchase process as well as in Austria (during an inspection, when signing documents with an Austrian notary, etc.).
Why this project in Seefeld:
good accessibility from Prague, about 5.5 hours, from Innsbruck about 40 min
range 10min Kaltenbach, 14min Zillertal Arena (143km of ski slopes)
estimated annual rental income of about 5% and further appreciation of your property
the accommodation is within walking distance to the lifts
10 minutes to the Golfclub Zillertal Uderns golf course
OFFER OF TYPE APARTMENTS:
APT NO.
FLOOR
SIZE IN SQ.M.
BALCONY / TERRASSE
GARDEN
PRICE WITHOUT VAT
DISPOZITION
SALES STATUS
A01
ground floor
44,86
26,2
84
328.198 EUR
-
not available
A02
ground floor
48,15
14,67
30
293.634 EUR
-
not available
A03
ground floor
50,5
26,2
140
339.111 EUR
-
not available
A04
1. floor
50,38
13,35
–
307.870  EUR
-
not available
A05
1. floor
48,07
14
–
281.169 EUR
-
not available
A06
1. floor
50,44
13,35
–
307.870 EUR
-
not available
A07
2. floor
50,38
13,35
–
358.644 EUR
-
not available
A08
2. floor
48,07
14,00
–
330.081 EUR
-
sold
A09
2. floor
50,44
13,35
–
358.703 EUR
-
sold
underground car par č. 12
23.000 EUR
RESORT SEEFELD IN TIROL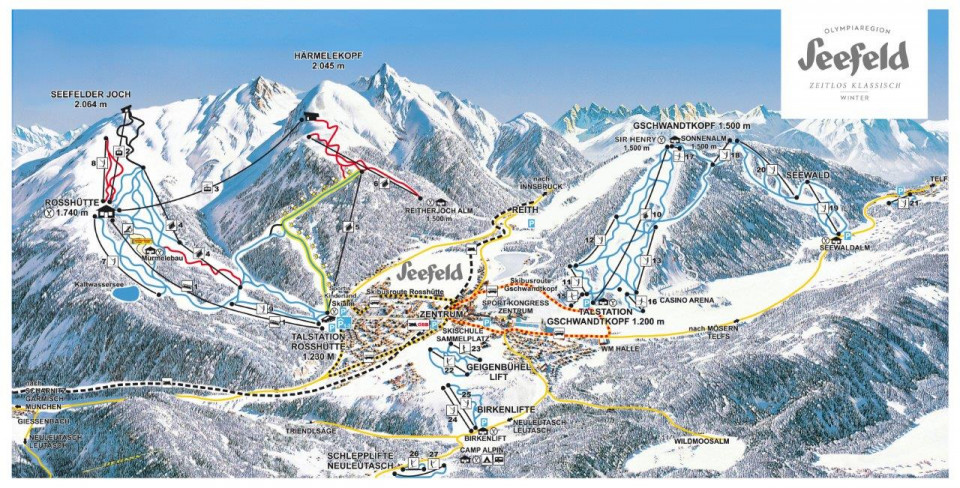 Olympiaregion Seefeld is a medium-sized resort with 17 ski lifts and several cable cars, with 19 ski slopes totaling 27 kilometers, and golf enthusiasts will enjoy their activities in summer. Seefeld is best suited for intermediate skiers and snowboarders, but there are several terrains for beginners and advanced skiers. There are 255 km of cross-country trails in Seefeld. For snowboarders there is a terrain park and a half pipe. Most of the ski slopes in Seefeld are snow-covered and their slopes are perfectly adapted to ensure skiing. With exceptional snow reliability in the region and a plateau location, you can rest assured that you can enjoy fantastic skiing amidst beautiful sunshine with a breathtaking mountain panorama. The nearest airport is in Innsbruck and the transfer time is only 0.5 hours. The train station is also directly in Seefeld.
With its prestigious reputation and convenient location just 22 km from Innsbruck, a popular destination for visitors from all over the world
ski pass for 6 diverse ski areas Rosshütte, Gschwandtkopf, Geigenbühel, Birkenlift, Neuleutasch, Hochmoos and Brandlift on 33.8 km of slopes
modern winter sports center with 28 lifts and lifts up to 2064 m above sea level.
the main ski resort of Rosshütte with slopes of all levels of difficulty and the new Seefelder Jochbahn cable car from this year
attractive Crazy Hole snowpark and night skiing served by covered and heated Hochanger 6-seater
relaxing skiing for beginners and intermediate skiers on the Gschwandtkopf hillside
excellent access to ski areas by free ski bus from all corners of the town
a top cross-country skiing center with its 246.5 km of well-groomed trails, 134.4 km for classics and 112.1 km for skating, repeatedly in independent tests ranked among the best Nordic ski resorts in the world
venue of cross-country competitions at the Winter Olympic Games in Innsbruck 1964 and 1976 and the venue of the World Championship in Classical disciplines 1985 and again on 19 February – 3 March 2019
with its high-quality accommodation facilities and busy social life, the resort cradles luxury like Lech or Kitzbühel
beautiful panoramas of the surrounding mountains and deserted slopes
for non-skiers 142 km of modified winter hiking trails or a modern skating and curling center
fascinating golfing experience in the middle of a mountain landscape on a plateau at 1,200 meters above sea level at the Seefeld-Wildmoos Golf Club, a member of the Austrian Leading Golf Courses association, is considered one of the most beautiful golf courses in the Alps. Seefeld is also located near the 18-hole course in Innsbruck. Seefeld-Reith Golf Club is a 9-hole course suitable for all levels – driving range, 12 indoor tees for training regardless of weather conditions, putting, pitching and chipping greens with a practical bunker (no membership required) Best of the Alps
romantic horse-drawn sleigh rides, visits to the Olympia spa complex (also a congress center) with swimming pools and saunas, or a local casino and cinema
cozy lounges and taverns inviting you to enjoy the warm scenes or the sunny terraces of traditional Tyrolean delicacies
the cultural treasures of the mountain town, represented by the Gothic parish church of Sts. Osvald with a pulpit from the 16th century or the Seekirchlein church from 1628, a symbol of the city
very convenient arrival by car from Munich and from Innsbruck